Cousin Connie recently brought to my attention the World War I registration card of our Great Granduncle, Samuel Antone Sabino Silva. On it he states he was born Oct. 11, 1889. I have him being born Oct. 11, 1892. Which one is it?
His dates:
-
1910 census
, Cummins St., he is 17, living with his sister Rebecca and her husband Obed Kaai, the head of household. Estimated birth year: 1893. Him, his sister and nieces are noted as 'Chinese', but this is wrong. CH is caucasian/hawaiian in the Hawaii census, but CH is Chinese in the US census.
-31 Jul 1917-
World War I registration card
he states he was born Oct. 11, 1889 (28 yrs)
-11 Oct 1917-Marriage certificate of Samuel Silva to Esther Kaialiilii, he is age 24, estimated birth year 1893.
-1920 census (he appears twice).
1)
With step father Joseph James Fern & family, he is age 28, estimated birth year 1892.
2)
As head of household, he is age 31, estimated birth year 1889.
-8 Aug 1928, voter application. Samuel Silva of 3511 Hinahina St., age 38, born Oct. 11, 1889.
-
1930 census
, 3511 Hinahina St, Oahu, he is head of household, age 41. Estimated birth year: 1889.
-3 Feb 1936-Obituary states he was born Oct. 11, 1892. Death certificate states date of birth, Oct. 11, 1892. Informant:Mrs. Emma K. Fern of 3450 Hardesty St., his mother.
It's interesting that when Samuel is the informant of his own birthdate, he's pretty consistent with the year 1889, but when it's someone else informing on his birthdate, it's consistently 1892 or 1893. Only on his marriage certificate in 1917, where you think he's the informant to his own age, he states he is 24, but hold on. The license to marry was issued by Palmer P. Woods, who was at the time the personal secretary of Joseph James Fern, (mayor of Honolulu), the step father of Samuel Silva. Was Palmer the informant on the marriage certificate, having personal knowledge of the family? Samuel Silva being the stepson of the Mayor of Honolulu, did he even have to appear in person to fill out the license to marry on May 14, 1917 like the general public? Could Palmer just have gotten the information from Joe Fern? If Samuel was really born in 1889, what would be the purpose for the others to have him be younger? Besides the draft registration what would be the advantage of appearing older? Did four years really make a difference on the draft anyway?
Still so many questions.
Edit: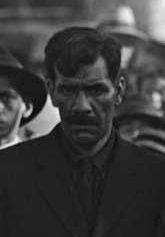 Samuel Silva in 1920.